In this world of selfish motives, reckless living in the rush of ego, greed, ambitions, have you ever wondered, what is keeping the society going? No, not the corporates, who are working 14 hours, doubling their turnover, every hour, not even scientific breakthroughs. It is kindness and compassion. This is the only treasure, which increases, as you spend it. This is the only virtue that brings true happiness on faces. Other forms of happiness is limited to the certain conditions, and fulfillments of certain desires. This world of selflessness on the other hand, derives pleasure in giving.
Such is the power of giving, that you don't have to ask for yourself. The more you give, the more you get. So what would you prefer, fending for yourself or fending for others, and you getting fended automatically. The latter, as it keeps you stress-free. The former, may give you every thing that you want, but with added strings of "Stress", "tension", "anxiety".
We have seen so many volunteers working selflessly for others, deriving extreme pleasure in doing so. But do we want to don their hats and follow their footsteps? If we do it for one single, day, we would want to do it every time. Probably that is the reason, we see people following a particular cult, engaging in, selfless service, in huge numbers. India has no dearth of religious sects and huge following.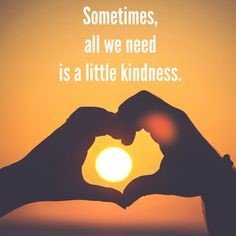 Radha Swami, Sant Nirankari mission, Dera Sacha Sauda, etc.
Baba Ram Rahim's followers, for instance are in millions, and you will find lacs of them, taking up an activity & even fighting &competing amongst each other, to do the most. Blood donation by these followers, is very renowned and have even been recorded in Guinness book of world records for maximum donation, in a single day, and this is a whopping 75,000+ units of blood from a single place. Scores of these followers wait for their turns, in queues, that last for entire day, and still hundreds of them are rejected, as the blood needed, gets collected or the infrastructure, cannot accommodate more donors.
So what makes these followers go to such extent for selfless acts? The answer to this Question is again the same, extreme satisfaction, knowing that their blood, can save 5 lives or even more. Similarly, these followers donate eyes, posthumously, body donation etc. In fact, thousands of eyes have been donated till date, & free eye screenings and surgeries are provided at annual eye camps, held in the month of December, in memory of their Master Shah Satnam Ji. One such eye camp is ongoing, till, December 15th, in the Dera Sacha Sauda's Ashram premises.
Volunteers in every field, derive so much pleasure in lighting lives of others, through umpteen deeds, that every morning they look up to these acts. A life driven by passion and compassion doesn't get burdened with negativity or idle pursuits and their lives and families, are looked after, by a higher force, that leads the world. What else would one want in life?